1,1,1,3,3,3-Hexamethyldisilazane
Product Name: 1,1,1,3,3,3-Hexamethyldisilazane Published:2014-06-23
Si-165 1,1,1,3,3,3-Hexamethyldisilazane
1,1,1,3,3,3-Hexamethyldisilazane
HMDS; Hexamethyldisilazane; DYNASYLAN HMDS; Bis(trimethylsilyl)amine; 1,1,1-Trimethyl-N-(trimethylsilyl)silanamine
Colorless Transparent Liquid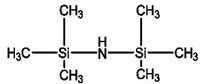 Soluble in most organic solvents
As Amikacin pharmaceutical intermediates, for hydroxy and amino-protecting agent; Special organic synthesis;
For silylation in the synthesis process through synthesis of amikacin, penicillin, cephalosporins, fluorouracil and various penicillin derivatives etc.Surface treatment of diatomaceous earth, white carbon and titanium powder etc.
As the photo-etching binder additive agent in thesemiconductor industry;
Used in vinyl silicone rubber to improve the tear strength;
Also used as processing agents and antibiotics hydrophobic silica hydroxy protecting agent
20kgs or 150kgs/pail or upon request for closed sealed packing.
Keep in a cool dry and ventilated plance, avoid light.
Store in a temperature from -50℃ to 45℃
R11: Highly flammable.
R20/21/22: Harmful by inhalation, in contact with skin and if swallowed.
R34: Causes burns.
S16: Keep away from sources of ignition.
S26: In case of contact with eyes, rinse immediately with plenty of water and seek medical advice.
S36/37/39: Wear suitable protective clothing, gloves and eye/face protection.
S45: In case of accident or if you feel unwell, seek medical advice immediately (show the label whenever possible.)